Lacking Images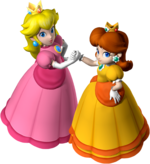 This article doesn't have as many or any at all of the images that are needed. You can help by adding Images.
Introductory
This type of level is a common type of level, and is actually the first to show up in Newer Super Mario Bros. Wii. It is a level, normally with a sandy ground set, and water most often.
Beach-Type Enemies:

This article is a stub.
Please help the Newer Super Mario Bros. Wiki by expanding it.