This article has been marked for revision.
Please help the Newer Super Mario Bros. Wiki by cleaning it up.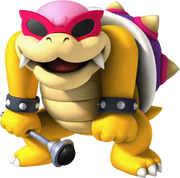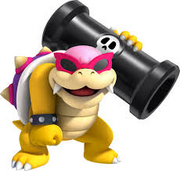 Roy Koopa is one of the Koopalings, he first appeared in Super Mario Bros 3 along with his other brothers and sister     
Appearence
Roy is a Koopaling, a big Koopa Troopa-like creture with a spiked shell and wand. Roy's shell and wand blasts are pink, he is bald and wears sunglasses
Newer Super Mario Bros. Wii
Roy is the boss of the Sandship in the Rubble Ruins (simmilar to how he was the boss of the Desert World in New Super Mario Bros Wii). His arena is a room in the Airship where a pyramid can be seen out the window in the arena, there is a single moving platform that moves left and right over the floor. Roy has a Ground-Pound attack simmilar to Mario's,
Ad blocker interference detected!
Wikia is a free-to-use site that makes money from advertising. We have a modified experience for viewers using ad blockers

Wikia is not accessible if you've made further modifications. Remove the custom ad blocker rule(s) and the page will load as expected.